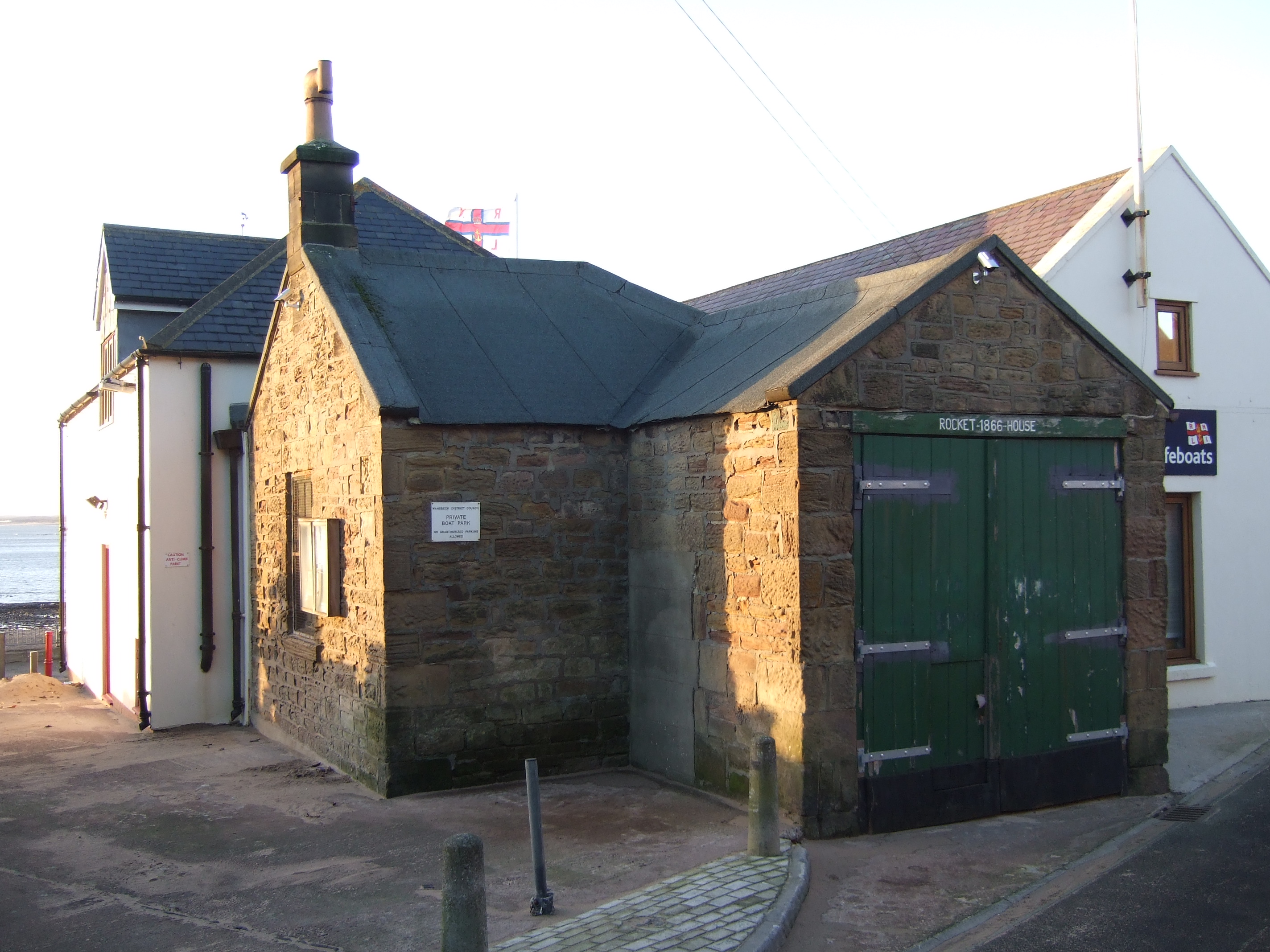 Rocket House March 2017 with initial security works front doors
Rocket House telephone table and log book desk
Rocket House stove and drying area
Rocket House television and dvd display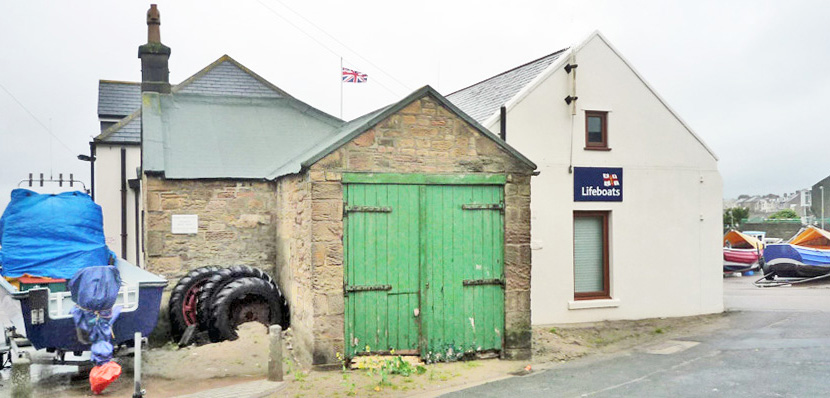 Above - March 2016 - Restoration work not yet started
June 2019 - Rescue Board External Display Installed
Work has been undertaken this month to install the 'rescue record boards' that were made by volunteers as part of the overall project delivery. The volunteers had been given tuition off local sign writer Michael Gray and this month the results were put on permanent external display.
March 2017 - Newbiggin Rocket House Genealogy Project
A project to record experiences of the Newbiggin Rocket Brigade is inviting members of the community who have connections with the Brigade / Coast Rescue Company to get in touch and be part of the project.
The Newbiggin Genealogy group is working with Newbiggin Heritage Partnership to record members of our community who can offer recollections and experiences on this local coastal rescue team.
Newbiggin Genealogy has developed a Community Tree which is a unique record of around 35,000 people who have lived in Newbiggin over the last 400 years. The Genealogy group are looking at data from their archive to further enhance this key research project. It is important that everybody connected with this coastal rescue service makes a contribution to get a comprehensive study and complete record of all aspects of the rescue team.
Newbiggin Genealogy are planning to undertake interviews later this month and into April to record stories of the Rocket Brigade and what they did as they trained and rescued people in distress. An edited version of the research project will be on display in the restored Rocket House later this year.
If you would like to get involved and help enhance this unique genealogy project then call 07767356867 or call into the Newbiggin Maritime Centre and leave your details.
ENDS
February 2017
During the month work was completed on the electric supply into the Rocket House. External work was undertaken for the electric connection and this is all now reinstated.

January 2017
The sky's the limit for rocket project
A rare feature of Northumberland's maritime heritage is set to be restored to its former glory - with support from Northumberland County Council.
The Rocket House in Newbiggin is built onto the back of the town's Lifeboat Station and is a small but neglected part of the area's maritime heritage.
Rocket Houses were built to house a cart which was loaded up with all the equipment necessary to carry out a rescue when a ship ran aground close to shore.
Opened in 1866, Newbiggin's was one of the oldest Rocket Houses in the country and was last used in around 1970.
It was manned by the Newbiggin Volunteer Life Saving Brigade and over the years hundreds of local people volunteered for the Brigade.
According to Historic England, "despite having been built in their hundreds around the coast, Rocket Houses are rare survivals nationally".
In September 2016 the Newbiggin Heritage Partnership was awarded a grant of £153,000 from the Heritage Lottery Fund to restore and open the Rocket House.
Local County Councillor and Deputy Business Chair Liz Simpson stepped in with £4,000 from her council capital allowance, while The Sir James Knott Trust and Newbiggin Town Council have also contributed funds.
The money will allow the partnership to restore the building, install interpretation boards, develop educational materials, provide training in heritage skills and offer volunteering and work placement opportunities.
Cllr Simpson said: "As a Newbiggin resident I know how important this piece of our heritage is to the local community and it's fantastic we will be able to restore it to its former glory.
"When complete it will be another asset in our growing number of visitor attractions as we look to bring more people in the town to help grow the local economy."
Work should get underway next month with the building open in July 2017.
Newbiggin Rocket House Restoration
Newbiggin by the Sea's Rocket House 1866-2016
Newbiggin Heritage Partnership (NHP)
September 2016 Update - Funding Secured
HLF Announcement
Saving 150 years of heritage at Newbiggin's Rocket House
One of the North East's oldest rocket houses is celebrating its 150th anniversary this year as well as a grant of £153,200 which will help to secure its future. Alongside volunteer life brigades, rocket houses were used to store equipment needed when lifeboats could not be deployed – two or four wheeled carts would be used to haul coastal rescue equipment to the shipwreck including a rocket launcher that fired rocket rescue lines withrope and a breeches buoy to haul people back to shore. Newbiggin's Rocket House was built in 1866 and played a vital role in coastal rescue for over a century with generations of families volunteering there until the 1970s.
Led by the Newbiggin Heritage Partnership the project will see the building saved from deterioration, restored and opened to the public. Artefacts, film footage and first-hand accounts will tell the story of the rocket house, volunteers and those whose lives were saved. People of all ages will be able to get involved in marking the Rocket House's milestone anniversary – volunteers will gain heritage skills, young people will benefit from work placements and educations packs will be created for school children.
The Rocket House is a small but neglected part of Newbiggin's maritime heritage. It is an early example of a building specifically built to house life saving apparatus used when conditions prevented the lifeboat from deploying. The Rocket House is built onto the rear of Newbiggin's Lifeboat House, the oldest continuously operated lifeboat house in the UK .

Rocket Houses became a vital part of seafaring rescues. A rocket with a line attached was fired from the shore to stranded sailors and passengers on ships that had run aground. The shipwrecked mariners would then be brought safely to shore in a breeches buoy life ring. Between 1856 and 1909 some 173,528 lives were saved from shipwrecks off the UK coast – 17,446 using rocket fired lines.

According to Historic England "despite having been built in their hundreds around the coast, Rocket Houses are rare survivals nationally". Newbiggin's Rocket House will be 150 years old in 2016 and the NHP would like to not only restore the building but also to equip and interpret it much as it would have been in the 19th C. This will provide a unique opportunity for both visitors and school children to appreciate and understand the role of the local Volunteer Life Saving Brigade and the countless lives they have saved.

Heritage Lottery Fund (HLF)
In December 2014 the NHP submitted a funding application to the HLF and we are delighted to advise you that the HLF has agreed to become the major project funder . For the remainder of 2015 we will be developing the project by carrying out structural and ecology surveys, visiting similar attractions eg Sunderland and Tynemouth Watch House Museums , firming up the capital costs, writing Business and Interpretation Plans and all the other things required to deliver a major heritage project.
During 2016 we will begin the restoration process along with interpretation works and we plan a special opening to visitors for the August Bank Holiday 2016 Tall Ships Fringe Event, 150 years after the Rocket House first opened. In addition there will be a further chance to look around during the September 2016 Heritage Open Days.

Newbiggin Heritage Partnership
The NHP is a community-based organisation that four years ago led the development and opening of the award-winning Newbiggin Maritime Centre. The development of the Rocket House forms part of the NHP's long-term goal to record, interpret and make more widely accessible the heritage of Newbiggin and, in particular, its links with the sea.

Further information: enquiry@nmcentre.org.uk. 01670 811951