---
Wednesday 28th August 2019
Lifeboat rescues two people from drifting inflatable




The dangers of inflatables at sea were once again highlighted this week during an incident at Newbiggin-by-the-Sea.




UK Coastguard Humber Operations received a call of an inflatable with two persons on board in difficulty off the Church Point headland at Newbiggin-by-the-Sea. A fresh offshore wind was blowing which was compromising the safety of the inflatable and it's two occupants as it was blown further out to sea.




The Coastguard requested the immediate launch of Newbiggin's Atlantic 85 B class lifeboat Richard Wake Burdon to assist and recover the casualty. Newbiggin's Coastguard Rescue Team were also tasked and took up position to locate and coordinate the lifeboat onto the casualty. The lifeboat was quickly on scene to find the drifting inflatable well out with the two persons on board suffering from the effects of the cold. The lifeboat returned to the bay where the two persons were checked over and treated following their ordeal with assistance from the coastguard who additional gave safety advice on the significant risks involved of using inflatable dinghies in the open sea.




ENDS



Monday 26th August 2019
Lifeboat launches to sinking boat

Volunteers from Newbiggin RNLI lifeboat station received a call around 10.30am today from UK Coastguard at the Humber Operations Centre reporting a small boat and two persons in difficulty at the Sandy Bay caravan park area.
Newbiggin's Atlantic 85 B class lifeboat 'Richard Wake Burdon' was launched from the beach and arrived in the search area a few minutes later. Newbiggin Coastguard Rescue Team were also tasked to the incident. Once on scene, two persons were observed in the water at the north end of Sandy Bay along with a partially submerged vessel. The volunteer crew quickly recovered the two persons from the sea and checked them over for any adverse affects due to their time in the water. Assistance was given by the Coastguard team during the incident. With everyone safely accounted for the lifeboat secured the casualty vessel and brought it north to Newbiggin Bay.
The lifeboat, casualties and casualty vessel arrived safely back into Newbiggin Bay where the casualties were handed into the care of the Coastguard.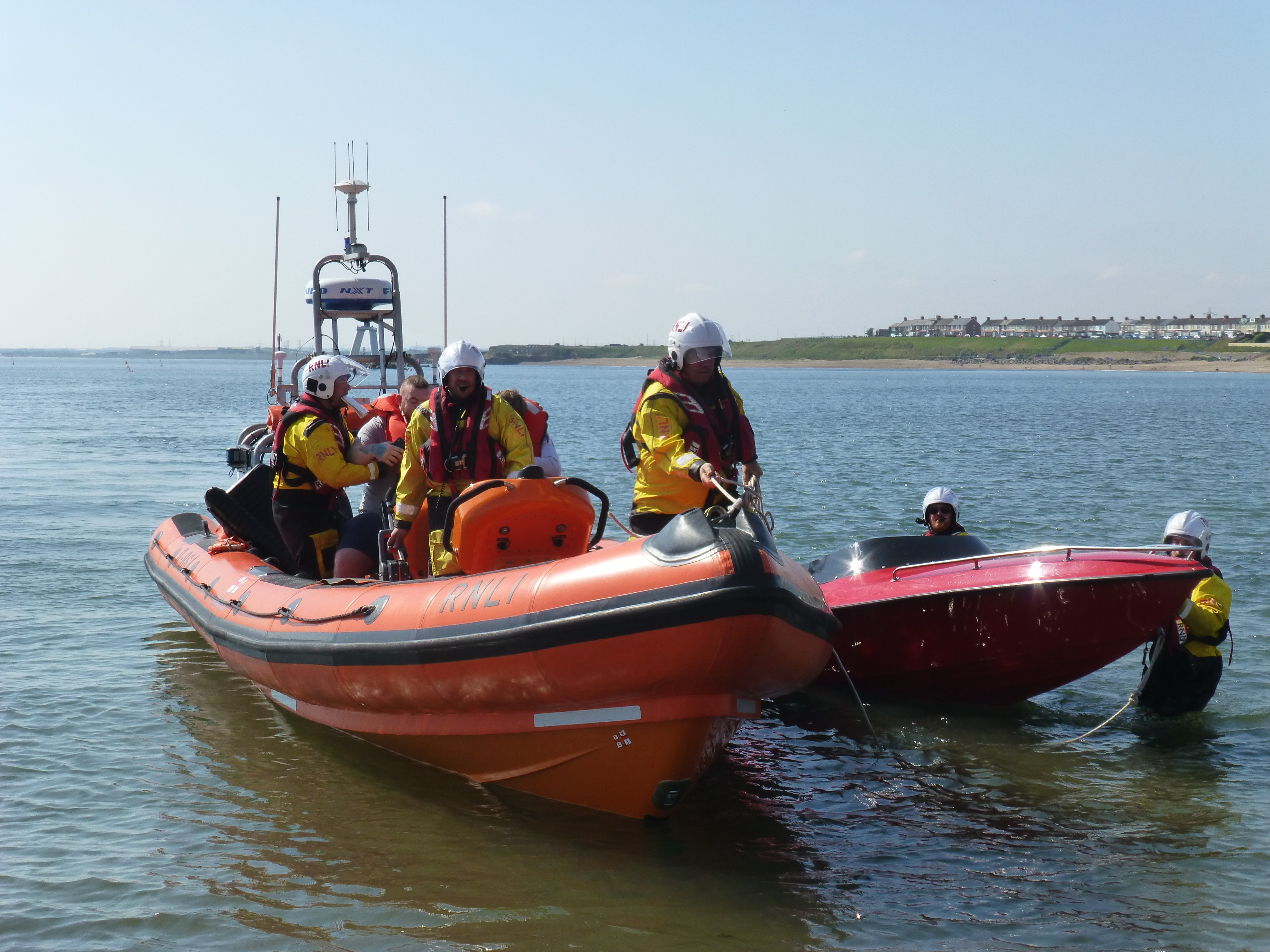 Newbiggin RNLI call after distress flares sighted

21 August 2019

The volunteer crew were paged by UK Coastguard Humber just after midnight on along with Newbiggin Coastguard Rescue Team to a report of red flares off the River Wansbeck.
Newbiggin's Atlantic 85 B class lifeboat 'Richard Wake Burdon' was launched with four volunteer crew on board shortly afterwards and began the search. The lifeboat carried out a thorough search of the Cambois Bay area while the Coastguard team searched the shore area.
After almost two hours of searching and nothing found the incident was closed.
ENDS

Thursday 15th August 2019
Lifeboat launches to drifting inflatable
Newbiggin lifeboat was launched today following reports of persons getting blown out to sea.

Newbiggin lifeboat station was contacted early afternoon by UK Coastguard's Humber Operation Centre requesting the immediate launch of the lifeboat to a report of two persons in difficulty in the sea off Cresswell. Newbiggin's Atlantic 85 B class lifeboat 'Richard Wake Burdon' was quickly launched with four volunteer crew on board and headed north.

Newbiggin's Coastguard Rescue Team also were requested to attend to the incident.

Shortly after launching further information was received to say that the persons were safely ashore and the incident was closed.


ENDS

Tuesday 13th August 2019
Lifeboat diverts from training for rescue
Volunteers from Newbiggin lifeboat station diverted from tonight's training exercise to attend to a vessel requiring assistance.
Newbiggin's Atlantic 85 B class lifeboat 'Richard Wake Burdon' diverted from the exercise to a small local fishing boat that had propulsion issues. The casualty vessel had been operating at the south end of Newbiggin Bay next to the reef when the problems occurred. Once alongside the four lifeboat volunteer crew set up a tow and brought the vessel safely to the beach then returned to the evening training.
ENDS
Crossroads Donation to RNLI
Sunday 28th July 2019

Newbiggin lifeboat volunteers received a generous donation of £700 during their recent Lifeboat Day event. Mary Millar and Doreen Longstaff who work in the Crossroads Coffee shop in Ashington came along to present the cheque.
The money was raised since Easter 2019 from tips given at the shop.
The Crossroads team are very active in fundraising along with supporting local ventures and we are grateful that Newbiggin RNLI was chosen to benefit from their generosity.
Mark Hopkins Lifeboat Operations Manager for Newbiggin RNLI said ' we are very grateful to the team from Crossroads for coming along today and presenting us with this generous donation.'
ENDS

Sunday 28th July 2019
Another record fundraising day at Newbiggin RNLI
Volunteers are celebrating at Newbiggin lifeboat station after another record day of fundraising realised over £5,000.

After a week of extreme temperatures the afternoon had settled weather. Once again the boatpark had a variety of stalls giving brisk trade to hundreds of supporters who had come along for this major event in Newbiggin's summer calendar. Stalls including souvenirs, tombola, home made cards, nearly new, bric a brac, raffle and home made cakes enjoyed a roaring trade with stock cleared out. Elsewhere in the main arena there was live music by West Coast Band along with the local band Steel by the Sea. The Ladies fundraising team also kept the visitor's appetite for home made cakes and refreshments going throughout the afternoon within the boathouse as well as those wanting to escape the sun. Newbiggin Coastguard Rescue Team along with the 4X4 teams provided other displays around the boathouse area. A large array of handmade model lifeboats and fishing boats was also on display.


At sea Newbiggin lifeboat kept the visitors entertained with rescue demonstrations in the Newbiggin Bay area.


With the afternoon concluding the various raffles and competition results were announced with all prizes claimed on the day. A full list of winning tickets and prizes is on display outside the lifeboat station.


Anne Main Chair of the Newbiggin Ladies Lifeboat Fundraising Team commented ' on behalf of the volunteers at Newbiggin lifeboat station can I send out a big thank you to everyone who has made this local fundraising event such a huge success today, it is greatly appreciated by us all.'

ENDS

Sunday 21st July 2019
Annual Blessing of the Lifeboat
The annual blessing of the lifeboat and the volunteers took place today.
The event has ran for many years and signifies the start of the annual lifeboat week culminating in Lifeboat Day on Sunday 28th July 2019.

Once again the service and blessing was well supported with the popular Salvation Army and St Marks singers taking a role also.

After the service the Ladies Fundraising Team provided refreshments for the gathered guests.

The blessing was the first one for our new lifeboat chaplain the Reverend Anthony O'Grady who upon blessing the lifeboat cast holy water over the vessel and the volunteers standing nearby.

Get on board and volunteer with Newbiggin RNLI
Volunteers at Newbiggin RNLI lifeboat station are inviting potential crew members to be part of their lifesaving team.
The Royal National Lifeboat Institution (RNLI) in Newbiggin by the Sea is looking for extra volunteers to join their lifeboat team.

The charity is hoping to attract people from all walks of life and new recruits don't need to have sea-going experience to get involved. Team players with good general fitness and the ability to learn new skills would be ideally suited to the role.

Potential recruits must live or work within five miles of the station and be between 17 and 55 years of age.

Mark Hopkins RNLI Volunteer Lifeboat Operations Manager, explained: 'Only 10 percent of our new recruits come with professional maritime experience, our current lifeboat crew is testament to this as we have a builder, car mechanic and a surveyor.

'The RNLI provides comprehensive training to turn ordinary people into lifesavers and by volunteering, people will gain some fantastic experience, knowledge and skills with the RNLI in Newbiggin.

'Around 95 percent of RNLI people are volunteers and find the experience an extremely rewarding one. It's a great way to make new friends whilst helping to save lives at sea.'

To qualify as lifeboat crew, volunteers need to be:
· Aged 17 to 55
· Living or working within 5 miles of the station at Newbiggin
· Generally fit
For more information, contact Mark Hopkins on Tel: 01670 817320 or email: newbiggin@rnli.org.uk
https://volunteering.rnli.org/vacancy/volunteer-cr...
https://volunteering.rnli.org/vacancy/volunteer-sh...


Saturday 25th May 2019
Early morning call to drifting fishing coble.
Volunteers from Newbiggin lifeboat station were called out early today to assist a drifting fishing vessel.

The UK Coastguard Humber Operation Centre received a distress call from a Blyth fishing coble with two persons on board that had sustained engine failure. Shortly afterwards at around 6.30am Newbiggin RNLI's Atlantic 85 lifeboat 'Richard Wake Burdon' was launched from the beach with four volunteer crew on board.
The lifeboat headed to a position around 3 mile east of the station and located the casualty vessel. Once a tow was established both vessels made their way to Blyth. With assistance from the Blyth Coastguard Rescue Team the casualty was safely secured in the harbour then the lifeboat returned back to Newbiggin where it was refuelled and made ready for service again.

ENDS
Monday 13th May 2019
Lifeboat called to drifting boat
Volunteers from Newbiggin RNLI lifeboat station were called out today following reports of a small cabin boat drifting ashore to the north of here at Lyne Bay. The UK coastguard at Humber had relayed the request for lifeboat assistance during lunchtime Monday and shortly afterwards Newbiggin's Atlantic 85 lifeboat 'Richard Wake Burdon' with three volunteer crew on board was launched from the beach.
The un-named casualty vessel who was out for a fishing trip, had launched from Newbiggin earlier in the day but unfortunately suffered issues whilst at sea which caused it to drift ashore.
The lifeboat was soon on scene and with the tow secured the casualty vessel and its two crew were brought ashore safely to Newbiggin and into the care of the Newbiggin Coastguard Rescue Team who had assisted throughout the rescue process.
ENDS

Sunday 28th April 2019
Champion Knitter Thanked
Volunteers at Newbiggin RNLI lifeboat station welcomed one of our supporters for a special presentation today.

Brenda Cribbes is a champion knitter making hundreds of small wool toys for Newbiggin's fundraising events. Her recent creations include a lifeboat bear, maypole dancers complete with maypole, mice and rabbits. Today Brenda was presented with a special certificate of thanks to acknowledge our appreciation of this tremendous support over the years.

Speaking after the event Brenda said 'I have always admired the lifeboat service with family connections in sea rescue going back to the last century.'

Brenda also donated today another batch of her special characters which will be part of the next fundraising event. Well done Brenda and thank you for your continued support.

ENDS

Sunday 14th April 2019
Newbiggin Easter Fair Success
Newbiggin Ladies Fundraising Team held a successful Easter fundraiser where over £700 was raised.

The Easter fair was held on a cold Sunday afternoon but this weather thankfully did not impact upon footfall to the sea front. Our boathouse once again provided the venue for the fundraising with stall including refreshments, souvenirs, raffles and fancy goods been popular to our many supporters.


Ann Main Chair of the Fundraising volunteers extended her thanks for a successful day adding 'the fundraising work by the volunteer team and all those who supported as well as donated items both before the event and on the day was incredible and we look forward to the next event planned in the coming summer months' - more details to follow.
ENDS

Thursday 14th February 2019
Newbiggin lifeboat launches to fishing coble
Volunteers from Newbiggin RNLI lifeboat station were called out yesterday by Humber Coastguard to go to the assistance of a fishing coble that had suffered engine failure.




The Newbiggin coble had been operating a mile north east of Church Point when their engine failed. Newbiggin s Atlantic 85 lifeboat Richard Wake Burdon was launched with three volunteer crew on board and proceeded to the search area.

The casualty vessel was quickly located then it was towed back with its two crewmen back to Newbiggin.

The Newbiggin Coastguard Coast Rescue Team were also called out providing assistance and support throughout the rescue operations.

Sunday 20th January 2019
Newbiggin lifeboat launches to windfarm vessel
As the lifeboat was preparing to launch on exercise today a mayday distress was overheard on the radio. The windfarm vessel Wind Transfer had made the call after suffering partial engine failure and was taking in water.
The lifeboat launched and met with Blyth lifeboat who had been tasked by Humber coastguard to the incident. The two lifeboats then escorted the casualty boat into Blyth harbour then assisted with pumping operations to keep the boat afloat. Blyth coastguard were already on scene and the rescue teams were joined by the local fire brigade who completed the pumping operation.
ENDS
Saturday 12th January 2019

Newbiggin's Four Legged Supporters
Members of the Bedlington Terrier North East group and their terriers were welcomed at a recent visit to Newbiggin lifeboat station.
Newbiggin's Fundraising Team organised refreshments at the lifeboat station and thanks to the generosity of all those visiting on the day over £250 was raised.

The famous Bedlington Terrier is the focus of this group who are based in Northumberland but have a membership across the region and beyond. Their visit to Newbiggin enables the terrier owners and others to get together for a formalised walk with over 60 of this unique breed enjoying the fresh sea air.

Peter Arris Chair of the group said: 'This is our first walk of the 2019 and we are pleased to visit Newbiggin by the Sea along with supporting our local RNLI lifeboat station. We will be doing further walks during the year and as part of that will be raising money for local charities.'
Wednesday 26th December 2018
Boxing Day Dip 2018
Hundreds of competitors braved the chilly North Sea to enjoy the annual Newbiggin Boxing Day Dip which was blessed with wall to wall sunshine and blue skies which further boosted dippers and spectators.
The large crowds on the beach and the many hardy souls who braved the sea were up on last year's count thanks to this established tradition of Boxing Day which was begun during the 1980's by the Ashington Lions.

The event was organised by Newbiggin RNLI lifeboat station and has raised over £1075 today in donations for the RNLI that were realised through generous support via sponsorship together with other donations. The Newbiggin Ladies Fundraising Team volunteers also had a busy morning providing refreshments that were served during the morning from the lifeboat station. Meanwhile on the beach Newbiggin's lifeboat volunteers along with the local Coastguard teams from Newbiggin and Blyth marshalled and controlled the event on the beach with the lifeboat at sea providing seaward safety cover. Lifeboats from here at Newbiggin and our flank station at Blyth also took part to provide the essential event seaward safety cover.
One of the event supporters was Stephen Gray from Christchurch who had travelled to the area for a visiting Christmas but also to support the Newbiggin RNLI and make his annual donation.
Apart from money raised for the RNLI a multitude of other charities were represented at the event and they will benefit from considerable support also. One of these groups was Calmer Therapy who support children with additional needs and are based at Guidepost. Donna Swan from the group said 'we are having a brilliant day here and hope to raise some extra money for our services thanks to the generosity of our supporters. Part of our efforts today are with 'Dressed for the Prom' a community group that provides free outfits for young people attending special events.'
Another group raising funds was the Butokokan Judo Club.Butokokan Judo is a family based judo club, ran by a father, Michael Douglass, and two sons, Glen Douglass and Andrew Douglass, as well as a family friend, Steve Smith in Newbiggin-by-the-Sea and Ashington. Together, we teach the art of Judo to students, aged 5 onwards, including senior students. Butokokan Judo was founded on 18th June 2011, and have now seen 7 years of success, with many more to come.
Andrew Douglass from the club said ' thanks for Newbiggin RNLI in organising this fantastic event and our supporters where we will be raising funds for our judo group at the Sports Centre here in Newbiggin.
Lisa Secombe from Cancer Research and her team of volunteers are also taking part. Lisa said' we have raised over £51,000 and this event will be a preamble to next years programme including the Northumberland Relay for Life and Women v Cancer Cycle Costa Rica with this team building event today leading to next years 250mile cycle ride in Costa Rica.
Almost 200 dippers took part at around 11.00am as they sprinted into the chilly sea watched by hundreds of spectators on the beach and promenade. After a few minutes in the sea the dippers all eventually retreated and reflected on their successes.

ENDS

Get Ready for Boxing Day
The annual Newbiggin by the Sea Boxing Day Dip takes place at 11.00am on the Boxing Day morning.

Organised by Newbiggin RNLI Lifeboat Station will be hosting this year's Boxing Day Dip event will take place from the promenade adjacent Bridge Street on the seafront. Anyone interested in taking part can obtain a registration form from Newbiggin Lifeboat Station any Sunday morning between 10.00am and 1.00pm otherwise they will be available on the day of the dip at 10.30am on the promenade adjacent Bridge Street.

Refreshments will be available in the lifeboat station during the event.

Sponsorship forms to raise funds for the RNLI are also available in the lifeboat station - BUT also, anyone wishing to raise money for their own chosen charity is encouraged to join us at the Boxing Day Dip.

Further information is available on Sunday mornings from the Lifeboat Station or call 01670 817320 or email Newbiggin@rnli.org.uk

ENDS

Newbiggin Christmas Lights Donation
Saturday 1st December 2018
Local lifeboat supporter Mark Turnbull switched on his Christmas lights to raise money for Newbiggin lifeboat.
Lifeboat supporter Mark Turnbull came along with his partner hope to have another successful Christmas lights fundraiser.
The work to deck out Mark's home had taken over a week to complete and judging by the many positive comments it has been worth it.
Mark's interest in Newbiggin follows a rescue undertaken almost 20 years ago and over that time regular donations and fundraising has taken place.
ENDS

Sunday 6th December 2015
Lifeboat Christmas Fair Success

The bad weather held off for the Newbiggin Lifeboat Christmas Fair on Sunday 22nd November, and people enjoyed a cold but sunny afternoon on the seafront. Hot drinks and cake all round, along with the tombola and bric-a-brac sale. Stormy Stan borrowed Santa's sleigh to pay us a visit as well. Many thanks to everyone who supported us that day, we raised £415.

Over Saturday and Sunday 12th and 13th December the Newbiggin ladies Fundraising Team will be running a stall within the Newbiggin Maritime Centre where a large Christmas Fair is taking place..

The final fundraiser for December is the Boxing Day Dip on 26th December, registration before 10.30am ready for the Nippy Dippy at 11am. People raising funds for other charities are welcome to take part in our event. For more details contact 07802 155509.